Phonics
At Lightmoor, our aim is for all our children to become fluent, confident  readers who love reading. We know that reading regularly and enjoying reading provides children with many more opportunities and supports other areas of their learning too. To begin their journey of reading in a fun, positive and effective way, we use Read Write Inc (Ruth Miskin).
We have used Read Write Inc Phonics (RWI) for many years and have seen the huge impact on children's early reading skills. The program is systematically planned to teach your child how to read and write letter sounds which give them the vital knowledge to then read independently.
What is Read Write Inc? 
Read Write Inc (RWI) is a complete phonics programme which helps all children learn to read fluently, confidently and at speed so they can then focus on developing their skills in comprehension, vocabulary, and spelling. The programme is designed for children aged 4-7. We begin the programme when the children start with us in Reception and children continue the programme until they are confident and accurate readers with good comprehension skills. We use a stage not age approach to our RWI groupings so children can be given tailored teaching appropriate to their needs.
 RWI was developed by Ruth Miskin and more information on this can be found at : Parents - Ruth Miskin Literacy
How is RWI taught? 
Read Write Inc is taught every day in school to ensure every child makes rapid progress. All children are assessed half termly by Miss Edwards (our Phonics Lead) and are then grouped in order for children to learn alongside peers on the same stage.   A Read, Write, Inc session lasts up to an hour (usually 30 minutes for Reception) Once children enter Year 2, they then access the RWI Spelling programme.
What Does it look like in Reception? 
In Reception all children will learn how to 'read' the Set 1 then Set 2 sounds in words and how those sounds can be written down. The children also play fun phonics games to support this learning. Repetition is key in Reception and the staff often reinforce the children's learning in fun, imaginative ways.
How will my child learn to read? 
From Reception into Year 1 and 2, children use the following strategies: 
Learn 44 sounds and the corresponding letters/letter groups using simple picture prompts – see below 
Learn to read words using Fred talk (sounding words out) and sound blending (blending sounds back together)
Read from a range of storybooks and non-fiction books matched to their phonic knowledge 
Work collaboratively with partners 
Develop comprehension skills in stories by answering 'Find It' and 'Prove It' discussion questions (in class but can also be supported at home)
How do they learn to write? 
The children use the following strategies: 
Learn to write and form the letters/letter groups which represent the 44 sounds with the help of fun phrases (e.g. around the apple, down the leaf for a) 
Learn to write words by using Fred Talk and Fred Fingers
Learn to build sentences by practising sentences out loud before they write  
How will it help my child's speech and language development?  
Throughout their Read, Write, Inc lessons, the children work in pairs and are given opportunity to feedback ideas. All children are given the chance to answer questions out loud, read with a partner, take turns and expand vocabulary.
What are Pure Sounds?

When the children begin learning their Speed Sounds, we teach them as pure sounds ('m' not' muh','s' not 'suh', etc.) so that your child will be able to blend the sounds into words more easily. 
At school, our friend Fred, helps us sound out new words. Fred can only speak in Fred Talk e.g. m-o-p, c-a-t, m-a-n, sh-o-p, b-l-a-ck. 
The following video shows how to pronounce the sounds as a 'Pure Sounds'. https://www.youtube.com/watch?v=TkXcabDUg7Q
What are Speed Sounds? 
The children are taught the sounds in 3 sets. 
Step 1: 
Set 1 Sounds are taught in the following order together with rhymes to help children form the letters correctly and instantly recognise sounds ready for blending. 
At this stage we do not use the letter names, just the sound they make.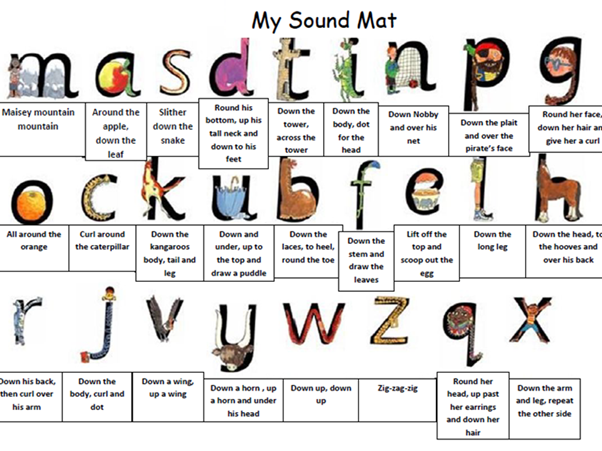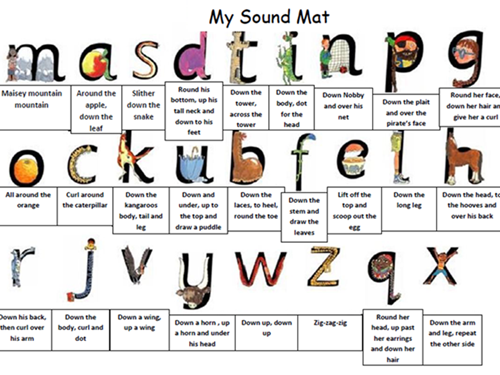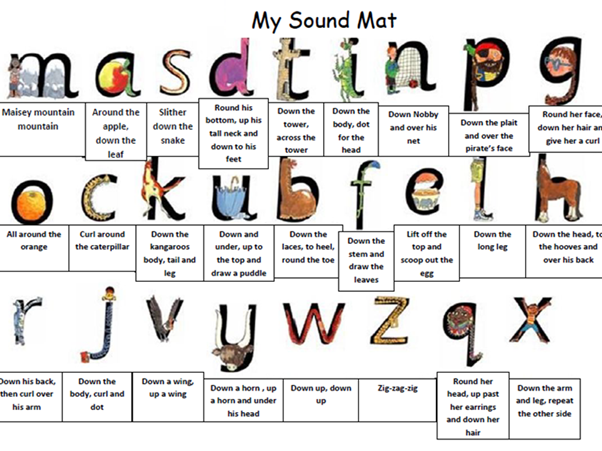 Step 2: 
The children are then taught Set 2 Sounds – the long vowels. When they are very confident with all of set 1 and 2 they are taught Set 3 Sounds which are alternative ways of making the set 2 Sounds. 
(Here, we begin learning letter names)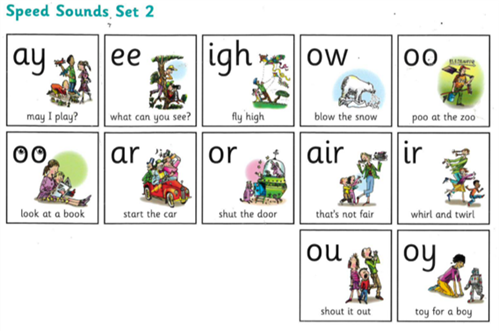 Step 3: Set 3 Speed Sounds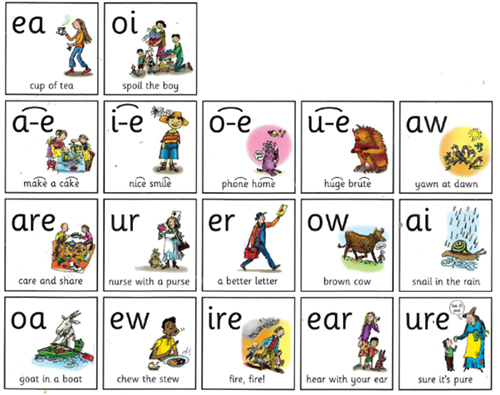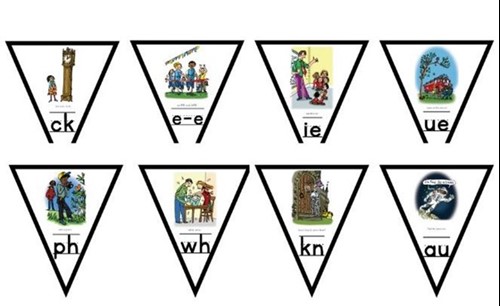 What are Red and Green words?
As your child begins to learn their sounds and blend these into words, they will become familiar with Green and Red words.
Green words contain sounds that the children are familiar with and they are phonetically decodable, meaning, they can be sounded out and blended. Please see below the Green words for Set 1, 2 and 3.
Set 1 Green Words
Set 2 Green Words
Set 3 Green Words
Red words are trickier. These are words that usually have a 'tricky letter', e.g. the word WAS. If we sounded out this word as w-a-s, when we blend it together it would be incorrect. We teach the children where the tricky sounds are.
Please see below examples of the red words taught as they progress through the RWI programme.
What are Alien words? What 'a load' of nonsense!        
In order for children to practise decoding new words, they will read 'Nonsense/Alien words'. These words will also feature heavily in the Year One Phonics Screening check in the summer term. .
Please see below for Alien words examples from Set 1, 2 and 3.
How can I help at home?: 
In Reception, your child will bring home a Green, Set 1 Speed Sounds book – as seen below
.
This is a chance for your child to share their weekly learning with you and practise reading and writing the sound they have practised in school. Please do not rush through this book, follow at the pace of the lessons being taught in school. This repetition will help to embed the sound into your child's long- term memory.
Once your child begins to learn sounds and blend simple words, they will start to bring books home that match their phonetic ability. The colour book they receive to go home usually corresponds with the colour group they are in within school when taught RWI phonics.
As they progress throughout the school and develop their reading skills, children will bring home a wider range and choice of books. Children are also invited to take a story book home from their classroom book corner. These are often not phonetically decodable and the purpose is to read and enjoy with an adult.
If you have any questions or would like more support regarding Read, Write Inc, please contact Miss Edwards (Phonics Lead) via the school office and she will be happy to help.