Welcome to Computing at Lightmoor
At Lightmoor Village Primary School we understand the importance of technology to the future of our children. We aim to give the children real experience on a range of devices and programmes to ensure they are skilled and prepared for their future and the integral role that ICT will play in them. We also hope to share with our children the careers and opportunities that computing can provide to inspire them to believe that anything is possible.
'We are changing the world with technology.' Bill Gates.
At Lightmoor, our curriculum is split into 4 parts using an adapted version of the Chris Quigley Milestones: To code, to connect, to communicate and to Collect.
'To code' focuses on coding and we start that as young as reception as we use 'unplugged' activities to ensure that the children understand what an algorithm is. By the end of key stage 1, the children will have started to code in certain programmes and apps such as 'Scratch jnr' and 'Daisy Dinosaur' on ipads and even more practically using Beebots. In key stage 2, we tend to use the 'Scratch' programme on laptops as the options and more technological, vast and complex.
'To connect' focuses on e-safety, something that we take very seriously at Lightmoor due to the ever-changing technology world. We aim to educate our children on age restrictions, cyber bullying and also staying safe online whilst gaming and on social media.
'To communicate' centres around using a range of apps/programmes to communicate in different ways safely. This includes how to communicate ideas, work or messages in a range of ways and contexts. Quite often we do this in a cross curricular way: For example, the children may choose how they would like to present the information they have found/researched.
'To collect' concentrates on collecting and recording information and presenting this in databases etc. We enjoy teaching this through science and maths for example as the children present their data/investigation results using technology.
Computing Lead:  Mr Walne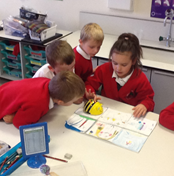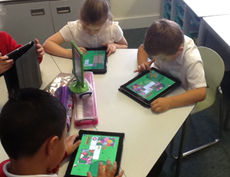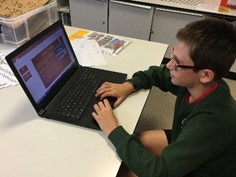 What Computing looks like at Lightmoor